The Christian Holy Land Experience
Thank you for visiting and for your support; and supporting our advertisers. Thank you for being such a blessing to this site:
I pray that the favor of God Almighty, will forever be upon you.
---
---
---
What A Rare Find!
This is Definitely a Site that was Created with Christians in Mind
---
A Christian Holy Land Experience that's looking to bring Christians perhaps the best online experience when it comes to Israel and all of its glory
---
Hello my name is Uri and I would like to introduce you to a site that I've created that's called: Christian Holy Land.com. First let me point out that personally I believe that the Holy Land of Israel is perhaps the deepest, most spiritual and physical foundational place that sits at the top of the three most popular monotheistic religions in the world today: Judaism, Christianity and Islam. And without question, the Holy Land of Israel is one of the most fascinating places that one could ever hope to visit within their lifetime. This is why places like Jerusalem, Bethlehem and Nazareth are constantly being spoken about in many different languages and tongues.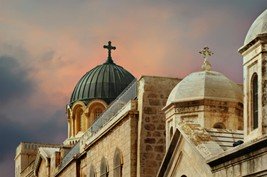 And we must not forget that these places are forever mentioned in stories and songs all throughout the world.
This would also explain why there are millions of pilgrims, tourists and crusades that continue to come and visit these sacred Holy Land sites year after year.
Know that the Christian Holy Land website is devoted to bringing Christians, and all those who are curious about this sacred land, a well-informed, wonderful online Holy Land experience.
Here at the Christian Holy Land website, we also provide not only a unique and friendly glimpse to the sacred sites of Israel, but we also take you on a tour that's up close and personal with the Holy Land's cultural attractions and historic milestones as well.
The Christian Holy Land website presents online visitors with a summarized list, in regards to the country's top attractions, by providing: maps, art pictures, up to date information, videos, and biblical references. And when you combine all of these features that the site has to offer, one would hope that our online visitors will be able to see the true beauty and invaluableness of God's most precious Holy Land...?
---

The Holy Land Experience - A Site Created With Christians In Mind



Spiritual Walk




Oh, the Holy Land, which is also known as "The Land of Milk and Honey" is also the place where the mightiest empires ruled the world, and orchestrated some of the greatest battles, which were some of the bloodiest clashes that has ever been recorded throughout history. To say the least, these were indeed... life changing events. Make no mistake, just like in ancient times, even today, they're people throughout the world that's dreaming, praying, fighting and yearning to learn more about this -- mysterious, most glorious and spiritually rich land that's known as Israel.
I like to think that when one visits the Holy Land, they're normally left with some sort of deep spiritual impact... For whatever reason, one would have to admit that there's something authentic and so real, when it comes to God's sacred Holy Land? These types of feelings are normally felt while one is touring and exploring this great land, and it's moments like these that provide a particular kind of eventful and personal experience that could perhaps bring one's faith to the highest of levels.
---
The Holy Land Experience - A Site Created With Christians In Mind
Israel Has A Lot to Offer

Personally I believe that nothing compares to a visit in the Garden of Gethsemane. It would be hard for one to be able to look past Gethsemane's ancient old huge olive trees and flowerful and blossoming vivid garden floor. Just by one knowing that Jesus [Yeshua] Christ had prayed in agony at this particular garden, presents a different type of experience that just feels so real and personal.
Or, how about being able to follow in Jesus' footsteps by walking through Jerusalem's Via Dolorosa, while visiting the 14 Stations of the Cross? Oh, and by the way, for those that don't know -- "The 14 Stations of the Cross" is the route that many believed that Jesus was made to travel, as He was being led to His crucifixion.
And what about those who would want to be able to explore the old stone-paved streets of Nazareth, or the ancient Nazareth Synagogue were Jesus had preached? What about those who would like to visit the public fountain that's known as "Mary's Well" or the famous old Catholic church that is known as "The Basilica of the Annunciation?"
Personally I think that it would be hard for one to be able to experience places of such, without those places having a profound effect, when it comes to one's spiritual walk with the Lord. Could a person forget standing at "The Sea of Galilee" shore fronts, while watching the fishing boats in the lake?
What about being able to cast your eyes upon the flowing green mountains and hills that blankets the surrounding sacred area? What if you could also go and visit Capernaum (St. Peter house) or the famous church in Tabgha that is known as "The Church of Multiplication of the Loaves and Fishes"?
---
The Holy Land Experience - A Site Created With Christians In Mind
If You Can Make It
So basically to sum things up, for those who can visit and tour the Holy Land personally, this site is a fantastic resource that we believe to have the most updated and richly compiled information on the net, when it comes to informing you, not only about Israel's sacred Holy Land sites, but in regards to the country's cultural attractions and historic milestones as well.
And rest assured, we are constantly adding reviews, notes and information in order to keep you well informed about this great land that's known as Israel. This is why we would also love to get your feedback, hear your personal stories that you might have about Israel and perhaps some tips that will make our site better.
And for those who can't personally visit the Holy Land, rest assured we haven't forgotten about you either. Keep in mind, this website cherishes you and was created with you in mind. So it doesn't matter where you are, you too will be able to benefit from our hard work as well. This is why we have gathered an abundance of vivid pictures, dazzling photos, and well compose videos that shows the Holy Land for all it has to offer.
We at the Christian Holy Land site view and pride ourselves as the live gate that will bring you into the Holy Land as if you were personally there. And also know that we feel honored to be able to present you with an opportunity that we believe will bring you an abundance of spiritual richness that will help aid you, when it comes to your walk with the Lord.
Uri
---
Christian Holy Land.com - Click Here to Visit Website