Bible Study Online Article
Links to more Bible Study Online Articles - Related to this page are located towards the bottom
Page One-Hundred and Fifty-Three
Moses & Aaron
The Mountain of God?
Now we move forward, to where we find that the Sacred Record has revealed that God has reached out to Aaron: "And the Lord said to Aaron, 'Go into the wilderness to meet Moses.' So he went and met him on the mountain of God, and kissed him." -- Exodus 4:27
(Bible Study Online Article Covers : Exodus 4:27,28)
Short Recap?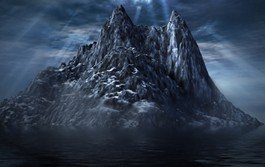 In the last article we took a look at how Moses was about to pay a heavy price for compromising, when it came to the circumcision of his son Gershom.
Moses compromised, so he would be able to avoid strife with his wife Zipporah.
Because of this, Moses would instead, bring on the wrath of God.
It would be at this point that Zipporah would be able to see for herself that the God of her forefathers really did exist. Needless-to-say, Moses didn't have to worry about arguing with his wife when it came to the circumcision of their son, in fact, after Zipporah had saw God for herself, she would quickly perform the circumcision herself. Obviously this would be great news for Moses, being that his life was now spared.
Now we aren't told at this time within the Sacred Record, but after this event had taken place, it would seem that Moses had decided to send his wife and family back home to be with his father-in-law Jethro: "And Jethro, Moses' father-in-law, came with his sons and his wife to Moses in the wilderness, where he was encamped at the mountain of God. Now he had said to Moses, 'I, your father-in-law Jethro, am coming to you with your wife and her two sons with her.'" -- Exodus 18:5,6
---
Bible Study Online
Moving Forward?
---
Now we move forward, to where we find that the Sacred Record has revealed that God has reached out to Aaron: "And the Lord said to Aaron, 'Go into the wilderness to meet Moses.' So he went and met him on the mountain of God, and kissed him." -- Exodus 4:27
It's here where we find that the Word of God that was foretold earlier to Moses at the "burning bush" begins to come to pass. Remember when God had spoken these words to Moses:
"So the anger of the Lord was kindled against Moses, and He said: 'Is not Aaron the Levite your brother? I know that he can speak well. And look, he is also coming out to meet you. When he sees you, he will be glad in his heart. Now you shall speak to him and put the words in his mouth. And I will be with your mouth and with his mouth, and I will teach you what you shall do.'" -- Exodus 4:14,15
---
Bible Study Online
God's Word Coming To Pass?
---
Understand that this would be a very important moment for Moses. Don't make the mistake of limiting this event to Moses reuniting his brother Aaron, because it goes beyond that. Yes, reuniting with his brother was important, but the mere fact that Moses now knows that what the Lord had told him at the "burning bush" was beginning to come to pass. One can't help but to see, how this would further help Moses to have the confidence and reassurance to continue forward and courageously in his calling.
Which is far more important, being that this moment affects the Israel people as a whole and not just one or two individuals. Remember that Moses had already tried to runaway from this calling, because of the fear and uncertainty, when it came to him facing his past. Make no mistake Moses will need this confidence, a faith that harbors no doubt, being that God will have Moses heading down a path that will place him on a course that will lead him face-to-face, when it comes to the fears that he had been running away from, for the past forty years of his life.
---
Bible Study Online
The Same Holds True For Us Today?
---
And of course God knew this... this is why He had laid it all out so clearly for Moses, in order to prove that He was the God of Abraham, Isaac and Jacob. And the same holds true for us this very day... God has laid it all out for us, throughout the Sacred Record and this why when we read prophecies that says:
"But know this, that in the last days perilous times will come: For men [people] will be lovers of themselves, lovers of money, boasters, proud, blasphemers, disobedient to parents, unthankful, unholy, unloving, unforgiving, slanderers, without self-control, brutal, despisers of good, traitors, headstrong, haughty, lovers of pleasure rather than lovers of God, having a form of godliness but denying its power. And from such people turn away!" -- 2 Timothy 3:1-5
And we are able to see it in the process of coming to pass. This should help to give us the confidence to stand strong and courageous when it comes to who we are in Christ Jesus: "For God so loved the world that He gave His only begotten Son, that whoever believes in Him [Jesus] should not perish but have everlasting life." -- John 3:16
---
Bible Study Online
Don't Be Discourage?
---
So we shouldn't hang our heads when we face opposition for what we believe: "Remember the word that I said to you, 'A servant is not greater than his master.' If they persecuted Me, they will also persecute you. If they kept My word, they will keep yours also." -- John 15:20
And we shouldn't be discouraged or afraid, when we hear of rebellions, revolutions and wars. Or when we see many that were once believers in the Lord Jesus Christ are now being deceived into serving the pagan gods of the world, just trying to "coexist" or join some "interfaith" movement. And we shouldn't be saddened when we see them being controlled, oppressed and degraded by the "elite societies" and the "ruling powers" that run them.
---
Bible Study Online
God Told Us This Is How It Would Be?
---
"And you will hear of wars and rumors of wars. See that you are not troubled; for all these things must come to pass, but the end is not yet. For nation will rise against nation, and kingdom against kingdom. And there will be famines, pestilences, and earthquakes in various places. All these are the beginning of sorrows. Then they will deliver you up to tribulation and kill you, and you will be hated by all nations for My name's sake.
"And then many will be offended [fall away], will betray one another, and will hate one another. Then many false prophets [messiahs & saviors] will rise up and deceive many. And because lawlessness will abound, the love of many will grow cold. But he who endures to the end shall be saved. And this gospel of the kingdom will be preached in all the world as a witness to all the nations, and then the end will come." -- Matthew 24:6-14
---
Bible Study Online
We Are Already Victorious!
---
Trust me, if you are truly trying to keep within God's covenant that's been made possible through the blood sacrifice of Jesus [Yeshua] Christ. And your repenting, turning away and setting yourselves apart from this wicked world, to show yourselves approved... then you are already victorious:
"Who shall separate us from the love of Christ? Shall tribulation, or distress, or persecution, or famine, or nakedness, or peril, or sword? As it is written: 'For Your sake we are killed all day long; we are accounted as sheep for the slaughter.' Yet in all these things we are more than conquerors [victorious] through Him [Jesus] who loved us. For I am persuaded that neither death nor life, nor angels nor principalities nor powers, nor things present nor things to come, nor height nor depth, nor any other created thing, shall be able to separate us from the love of God which is in Christ Jesus our Lord." -- Romans 8:35-39
In the next Bible Study Online Article:
In the next article we will begin to enter into our next phase when it comes to the "Great Exodus." We finally come to the point from within our journey, to where we find Moses finally meeting with the elders of Israel. We will also see that Moses begins to come before the Mighty Pharaoh. There's so much within this next phase that we will be able to connect with both naturally and spiritually.
Well, that is if you don't get too distracted by all the high drama that we are about to encounter as well. Keep in mind, it's the high drama and the powerful miracles that keep people from being able to connect and extract the hidden nuggets that are buried throughout its context. But you and I won't be overwhelmed when it comes to the glory of the Lord, being that we should expect this, when it comes to the Almighty. So let's see if we can find most of these priceless nuggets and spiritually enrich ourselves.
---
Related - Bible Study Online Articles - Links
Start Reading a Different Bible Study Online Series:
**YOUR CURRENT BIBLE STUDY ONLINE SERIES WOULD BE HERE**
---
Continue Reading - Bible Study Online - Current Series:
145) The Call of Moses
146) The True Purpose of Moses
148) The Systematic God
150) A Frustrated God
151) A Reality Check for Zipporah
152) Moses' Losing & Costly Position of Compromising
153) <-CURRENT PAGE->
154) Moses Gathers the Elders of Israel
156) Pharaoh Moves Against God
---
Leaving - Bible Study Online Article Page - Entering Christian Resources Today - Home Page
CrossDaily.com
Web Search where you can VOTE FOR THIS SITE & other great ones. Christian search engine, directory & voting index. You'll find Bible Study Online, chat, churches, jobs, music, reviews, software, theology, & more. See the best sites!